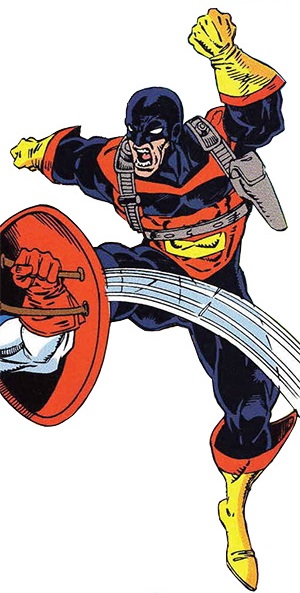 VORMUND (Markus Ettlinger, covert)
Affiliations Solo D8, Buddy D6, Team D10
Distinctions Hauptmann Deutschland, Kinetic Absorber, Terrorist Hunter
Power Sets
GENETIC SUPER-SOLDIER
Enhanced Durability D8, Enhanced Reflexes D8, Enhanced Stamina D8, Enhanced Strength D8
SFX: Absorption. On a successful reaction to a kinetic-based attack, add your opponent's effect die to your next Genetic Supersoldier roll.
SFX: Human Shield. When a nearby ally or friend takes physical stress, you may step up that stress to take it yourself instead.
SFX: Second Wind. Before you take an action including a Genetic Super-Soldier power, you may move your physical stress die to the doom pool and step up the Genetic Super-Soldier power for this action.
Limit: Patriot. Earn 1 PP if you step up emotional stress inflicted by government forces or popular opinion by +1.
WEAPON HARNESS
Cable Gun D8, Weapon D8
SFX: Grenades. Against multiple targets, for each additional target add a D6 and keep an additional effect die.
SFX: Non-Lethal Weapons. When using Weapon to inflict a complication on a target, add a D6 and step up your effect die.
Limit: Gear. Shutdown Weapon Harness to gain 1 PP. Take an action vs. the doom pool to recover.
Specialties
Athletic Expert D8, Combat Master D10, Covert Expert D8, Military Master D10, Vehicle Expert D8
Milestones:
BLACK, RED & GOLD
1 XP - When you represent your countries qualities in the media or to foreign heroes.
3 XP - When you encounter another flag-bearing hero.
10 XP - When you either found a new team of german heroes, or join an existing team of european-, or flag-bearing heroes.
SHADOWS OF THE REICH
1 XP - When you encounter a villain with a connection to the Third Reich.
3 XP - When you take down a villain with a connection to the Third Reich.
10 XP - When you turn in the boss of a criminal organization with a connection to the Third Reich, or you expose enough of that organization to cripple its operations.
Ad blocker interference detected!
Wikia is a free-to-use site that makes money from advertising. We have a modified experience for viewers using ad blockers

Wikia is not accessible if you've made further modifications. Remove the custom ad blocker rule(s) and the page will load as expected.