The Vision
Edit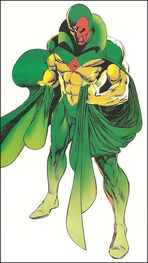 by Dropkicker 
Affiliation
Edit
Solo d8, Buddy d6, Team d10
Distinctions
Edit
Android Avenger, Even An Andoid Can Cry, Student of Humanity
Ghostly VisionEdit
Intangibility d10
Flight d6 SFX: Disruption. When including Intangibility as part of an attack action, add d6 and step up effect die +1
SFX: Invulnerable. Ignore physical stress or trauma unless caused by energy attacks Limit: Mutually Exclusive. Shutdown Synthazoid, except for Solar Blast, to activate Ghostly Vision.
SynthazoidEdit
Enhanced Senses d8
Solar Blast d8
Superhuman Durability d10
Superhuman Strength d10 SFX: Area Attack. Add a d6 and keep an additional effect die for each additional target. Limit: Exhaustion. Shut down any Synthazoid power to gain 1 PP. Recover power by activating an opportunity or during a Transition Scene.
Limit: Mutually Exclusive. Shutdown Ghostly Vision to activate Synthazoid.
Specialties
Edit
Combat Expert
Tech Expert
Ad blocker interference detected!
Wikia is a free-to-use site that makes money from advertising. We have a modified experience for viewers using ad blockers

Wikia is not accessible if you've made further modifications. Remove the custom ad blocker rule(s) and the page will load as expected.