Scarlet Spider
Edit
Felicity Hardy
Affiliations:
Edit
Solo d8, Buddy d10, Team d6
Distinctions:
Edit
Showoff Sidekick, Black Cat's Legacy, Ambitious Athlete
Expert Gymnast and Martial Artist
Enhanced Strength d8, Enhanced Agility d8, Enhanced Stamina d8, Leaping d6, Wall-Crawling d6, Enhanced Speed d8
SFX: Focus. If your pool includes an Expert Gymnast and Martial Artist die, you may replace two dice of equal size with one stepped-up die.
Limit: Exhausted -Shutdown any Expert Gymnast and Martial Artist power to gain 1 PP. Activate an opportunity or participate in a Transition Scene to recover that power.
Scarlet Spider Aresenal
Scarlet Screamer (Sonic Blast) d8, Swing Line d6,
SFX: "Smoke Bombs" - Against multiple opponents, for every additional target add a d6 and keep an additional effect die.
SFX: Scarlet O'Nine Tails - When inflicting an ensnared complication on a target, add d6 and step up your effect die.
Limit: Gear - Shutdown Scarlet Spider Aresenal to gain 1 PP. Take an action vs. the doom pool to recover.
Specialties:
Edit
Acrobatic Master d10, Stealth Expert d8, Psych Expert d8, Menace Expert d8, Investigation Master d10, Combat Expert d8, Computer Expert d8
Milestones:
Edit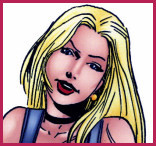 Tagalong
1XP - The first time you use your Buddy Affiliation die in each Scene.
3 XP - Whenever you tag along unwanted on a mission
10 XP - When you are accepted as a sidekick or teammate, or are emotionally stressed out by someone who was once a buddy or a teammate and choose to stop adventuring.
Rebeling Against Mom
1 XP - When you sneak away from a normal life obligation to go on an adventure.
3 XP - When your mom or dad catches you trying to sneak away in costume.
10 XP - When you convince one or both of your parents that being a superhero is in your blood, or hang up your costume forever at your parents' behest. 
Ad blocker interference detected!
Wikia is a free-to-use site that makes money from advertising. We have a modified experience for viewers using ad blockers

Wikia is not accessible if you've made further modifications. Remove the custom ad blocker rule(s) and the page will load as expected.