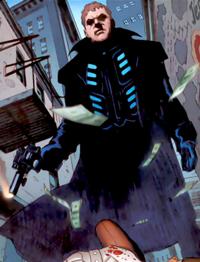 Christoph Nord
Edit
Born in the former East Germany, Christoph Nord was an idealist who fought against the communist regime as a freedom fighter for the West German Cell Six. Nord's brother Andreas fought for the East Germans, and when the two met in battle Nord was forced to kill his brother.
Later, after an encounter with the assassin the Confessor, Nord was recovering in a German hospital where he fell in love with nurse Ginetta Barsalini. The two married, and she soon became pregnant, but he later learned that she was a double agent and was forced to kill her after she attacked him. Guilt and pain drove him further into his mercenary work, and he eventually accepted an offer to join the Central Intelligence Agency's Weapon X Program. Nord joined the Program's covert operations unit Team X, changed his name to David North, and took the codename Maverick.
Maverick sought to hunt down Sabretooth to make him pay for his numerous crimes, and joined forces with the X-Men in capturing him. Maverick subsequently learned that he had contracted the deadly mutant-killing Legacy Virus.
During the final stages of his infection, Maverick encountered the Russian mutant telepath Elena Ivanova who was hunting Sabretooth to avenge his murder of her mother. The Virus claimed Maverick's life, but Ivanova managed to use her powers to coax him back to life. As a result, Maverick's Legacy Virus went into full remission and his powers further mutated.
In a later encounter with Hammer and Sickle, Maverick's left eye was gouged out by Sickle, and he was left to die in the Swiss Alps. Forced to cauterize the wound to stop from bleeding to death, Maverick survived and later resurfaced to aid Wolverine against a revived Weapon X Program. This new Program sent Sabretooth to recruit both Maverick and fellow Team X alumnus John Wraith. Neither accepted the offer, and so Sabretooth killed Wraith and critically injured Maverick. Brought to the Program with only minutes to live, Maverick reluctantly joined in order to survive and was genetically modified to become Agent Zero.
Zero lost his powers during M-Day. He relocated to an office in Queens handling various depowered mutants. Wolverine sought him out for information on carbonadium, reuniting the two and Jubilee. However, Omega Red soon attacked the building, looking for the carbonadium synthesizer.
Even without his mutant powers, Nord is an excellent hand-to-hand combatant, a precision marksman, and an expert in covert operations and demolitions. He also has vast experience with computers and communications equipment.
Ad blocker interference detected!
Wikia is a free-to-use site that makes money from advertising. We have a modified experience for viewers using ad blockers

Wikia is not accessible if you've made further modifications. Remove the custom ad blocker rule(s) and the page will load as expected.