Kulan Gath
Edit
SOLO D10, BUDDY D6, TEAM D8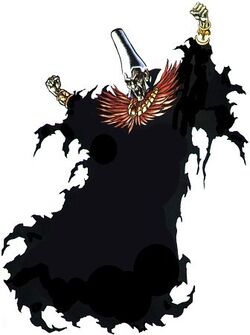 IMMORTAL SORCERER, VENGEFUL, PACT WITH SHUMA-GORATH
ANCIENT MAGIC
ENHANCED STAMINA D8, FLIGHT D6, MIND CONTROL D10, MYSTIC BOLTS D10, MYSTIC SHIELDS D8, SUPREME SORCERY D12

SFX: Versatile, double and step down one die in Ancient Magic.

SFX: Alter Reality, Spend a d6 from the doom pool to double Sorcery when attempting to create scene-wde Complications.

SFX: Area Attack, select multiple targets; add a d6 to the roll for each target and keep +1 effect die.

SFX: Immunity, Spend 1 PP to ignore stress or complications arising from aging, disease, or poisons.

Limit: Growing Dread, Opportunities are generated by a 1 or 2 on any roll including Supreme Sorcery

Limit: Demonic Pact, Shut down any power in Ancient Magics to step up die in the doom pool. Activate opportunity to recover.
Specialities
Menace Expert, Mystic Master, Psych Expert
Ad blocker interference detected!
Wikia is a free-to-use site that makes money from advertising. We have a modified experience for viewers using ad blockers

Wikia is not accessible if you've made further modifications. Remove the custom ad blocker rule(s) and the page will load as expected.