SOLO D8, BUDDY D4, TEAM D6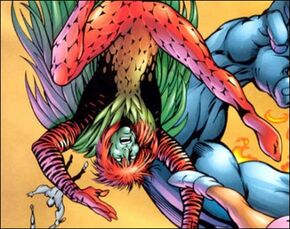 STAGE MAGICIAN, SHOWOFF, SKILLED DETECTIVE
POWERSETS
CLANDESTINE BLOODLINE
ENHANCED AGILITY D8, SUPERHUMAN SENSES D10, SUPERHUMAN STAMINA D10

SFX: Immunity, spend 1 PP to ignore stress or complications from aging or disease.

SFX: Boost, Shutdown a Clandestined Bloodline Power to step up another power in the set by +1.

Limit: Hypersensitivity, Gain 1 PP to step up any stress or complications resulting from sensory overload

Limit: Overstim. Shutdown a Hypersenses power and gain 1 PP. Recover power by activating an opportunity or during a Transition Scene.
Specialties: Acrobatics Master, Combat Expert, Crime Expert, Mystic Expert
Ad blocker interference detected!
Wikia is a free-to-use site that makes money from advertising. We have a modified experience for viewers using ad blockers

Wikia is not accessible if you've made further modifications. Remove the custom ad blocker rule(s) and the page will load as expected.