Taking Action PG: OM 49
EXPERT SENTINEL
Edit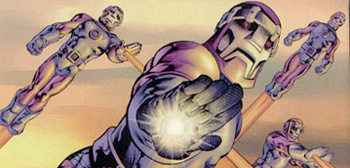 Sentinel MK III
Affiliations
Edit
Solo D6, Buddy D8, Team D10
Distinctions
Edit
Destroy All Mutants
Power Sets
Edit
SENTINEL DOMINATION
Energy Beam Projector D10, Enhanced Senses D8, Superhuman Durability D10, Superhuman Strength D10
SFX: Adaptive Learning. Add a D6 to your dice pool for every failed action against a superhuman opponent.
Limit: Robotic Systems. On an electromagnetic attack, shutdown a trait and gain a D6 doom die.
Ad blocker interference detected!
Wikia is a free-to-use site that makes money from advertising. We have a modified experience for viewers using ad blockers

Wikia is not accessible if you've made further modifications. Remove the custom ad blocker rule(s) and the page will load as expected.