Dark-Crawler
Edit
SOLO D8, BUDDY D4, TEAM D6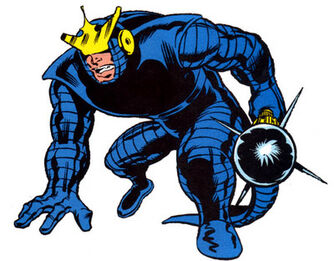 MASTER OF THE UNDYING ONES, AGENT OF CHAOS, THE WORM OF DARKNESS
POWER SETS
DENIZEN OF THE DARK DIMENSION

SONIC BLAST D8, SORCERY D8, SUPERHUMAN DURABILITY D10, SUPERHUMAN STRENGTH D10, SUPERHUMAN STAMINA D10, TAIL D8
SFX: Focus, In a pool including a DENIZEN OF THE DARK DIMENSION power, replace two dice of equal rank with a die with +1 step.
SFX: Immunity, spend d6 from doom pool to ignore stress, trauma, or complications from vaccum, hunger, thirst, or fatigue.
Limit: Power Flux, Shutdown Sorcery in magic-weak areas and scale back other Denizen of the Dark Dimension powers by -1 die. Add a d8 to the Doom Pool. Spend a d6 from the Doom Pool to recover.
Limit: Weakness, add d6 to the Doom Pool to step up stress taken from light-based attacks and complications.
STAR SCEPTER
ENHANCED DURABILITYD8, DARKFORCE BLASTS D10
Limit: Gear, Shutdown Star Scepter powerset and add d6 to doom pool. Spend d6 from doom pool to recover.
Specialties
Combat Expert, Covert Expert, Menace Expert, Mystic Expert
Ad blocker interference detected!
Wikia is a free-to-use site that makes money from advertising. We have a modified experience for viewers using ad blockers

Wikia is not accessible if you've made further modifications. Remove the custom ad blocker rule(s) and the page will load as expected.