Comte de Nuit
Edit
by 
Clayton Wick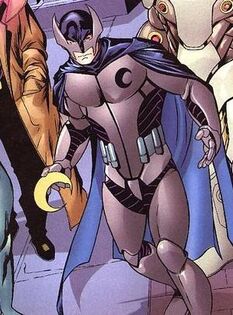 Affiliations
Edit
Solo d10, Buddy d6, Team d8
Distinctions
Edit
Heart Full of Vengeance, Obsessed With The Night, War On Crime
NIGHT TERROR
Enhanced Reflexes d8, Enhanced Stamina d8
SFX: Focus. If a pool includes a Night Terror power, you may replace two dice of equal size with one die +1 step larger.
Limit: Exhausted. Shutdown any Night Terror power to gain 1 PP. Recover power by activating an opportunity or during a Transition Scene.

THE COUNT'S TOOLKIT
Enhanced Durability d8, Weapon d6
SFX: Moonarang Expert. Add a d6 and step up your effect die by +1 when inflicting a complication on a target during a roll which includes your Weapon die.
SFX: Moonarang Flurry. Step up or double your Weapon die against a single target. Remove the highest rolling die and add 3 dice for your total.
Limit: Gear. Shutdown The Count's Toolkit and gain 1 PP. Take an action vs. doom pool to recover.
Specialties
Edit
Acrobatic Expert d8, Combat Expert d8, Crime Expert d8, Menace Expert d8, Tech Expert d8, Vehicle Expert d8
Milestones
Edit
DERIVATIVE HERO
1 XP when you first declare yourself to be the Comte de Nuit.
3 XP when you are mistaken for another hero.
10 XP when you make a name for yourself as Comte de Nuit, or abandon the identity for a new, more original one.

VENGEANCE QUEST
1XP when you apprehend a thief. 
3 XP when you uncover a clue related to your father's murder.
10 XP when you abandon your team to bring your father's killer to justice, or when you abandon your quest to rescue a team member from danger.
Ad blocker interference detected!
Wikia is a free-to-use site that makes money from advertising. We have a modified experience for viewers using ad blockers

Wikia is not accessible if you've made further modifications. Remove the custom ad blocker rule(s) and the page will load as expected.