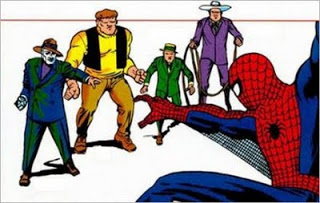 The
Enforcers
are a gang of street-level criminals who first appeared in the employ of the
Big Man
. Original members included
Fancy Dan
,
Montana
, and the
Ox
.
The Big Man was born in Queens, New York. He works at the Daily Bugle, but leads a double life behind a mask as the head of New York's crime and the boss of the notorious Enforcers. Although he does not possess any actual superpowers, he is a slippery opponent.
Fancy Dan was born in Brooklyn, New York. He has great proficiency with judo and karate. The Ox was born in Seaside Heights, New Jersey. He is a burly strongman possessed of superhuman strength. Montana was born in Bozeman, Montana. He has great proficiency with the lariat.
Pages in category "Enforcers"
The following 6 pages are in this category, out of 6 total.
Ad blocker interference detected!
Wikia is a free-to-use site that makes money from advertising. We have a modified experience for viewers using ad blockers

Wikia is not accessible if you've made further modifications. Remove the custom ad blocker rule(s) and the page will load as expected.