Captain America
Edit
James Buchanan Barnes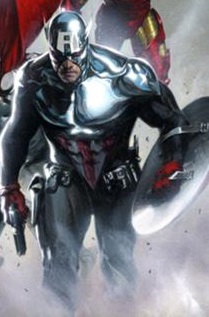 Solo d8, Buddy, d10, Team d6
Distinctions: Don't disgrace the uniform, Former Soviet assassin, Making amends
Power Sets:
Winter Soldier
Enhanced Durability d8, Enhanced Reflexes: d8, Enhanced Stamina d8, Enhanced Strength d8, Weapon d6
SFX: Focus - In a pool including a Winter Soldier die, replace two dice of equal size with one die +1 step larger
SFX: Electrified Arm - Double or step up Enhanced Strength for one action. If that action fails, shut down Enhanced Strength. Recover power by activating an Opportunity or during a Transition Scene.
SFX: EMP - Target a tech-based opponent or a tech-based trait. Add D6 and step up the effect die +1 when using the Electrified Arm to create tech based complications (i.e. shorted out, shut down, erased data, etc).

Limit: If it weren't for bad luck… - Count 1s and 2s on dice as opportunities when using a Winter Soldier power.
Limit: Haunted by the past - Earn 1 PP to step up emotional stress related to Buchanan's past as the Winter Soldier.

Vibranium-Alloy Shield
Godlike Durability d12, Weapon d8
SFX: Area Attack - Target multiple opponents. For each additional target add d6 to your pool and keep 1 extra effect die.
SFX: Ricochet - Step up or double Weapon die against a single target. Remove the highest rolling die and add an additional die to your total.
Limit: Gear - Shutdown Vibranium Alloy Shield and gain 1 PP. Take an action against the doom pool to recover gear.

Specialties: Acrobatics Master d10, Combat Expert d8, Covert Master d10, Vehicles Expert d8
Milestones:
iving up to the legacy
1XP when you do something "because it's what Steve would have done"
3XPs when you engage in combat with one of Steve's old foes or come to an understanding with one of his friends.
10 XPs when someone else acknowledges you as a worthy successor or when someone says you're not fit to carry the shield.
Ghosts of the past 
1XP when you first use your Covert specialty in an action and succeed
3XPs when someone identifies you as the Winter Soldier
10 XPs when you cut off ties with someone from your past or sacrifice something to remain with them
Ad blocker interference detected!
Wikia is a free-to-use site that makes money from advertising. We have a modified experience for viewers using ad blockers

Wikia is not accessible if you've made further modifications. Remove the custom ad blocker rule(s) and the page will load as expected.