BATROC ZE LEAPER
(by vitruvian)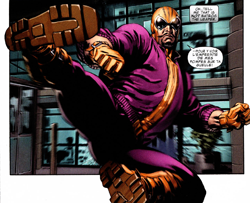 Affiliations: Solo D10, Buddy D6, Team D8
Distinctions: Savvy Savate Mercenary, Test Myself Against the Best, Oui, I am just THAT French
Power Sets:
POWERFUL LEGS
Kicks Like A Mule D8; Leaping D6
SFX: Focus.
SFX: Versatile.
Limit: Exhausted.
Specialties: Acrobatic Master d10, Combat Master d10, Covert Expert d8, Crime Expert d8, Psych Expert d8
Milestones:
MAN OF HONOR
1 XP when you refuse to take advantage of a foe's Stress or Complication because it is not honorable
3 XP when you change sides in a specific conflict because your foe is more honorable than your allies.
10 XP when you make the decision to switch from mercenary villain to hero, or vice versa, or not.
Ad blocker interference detected!
Wikia is a free-to-use site that makes money from advertising. We have a modified experience for viewers using ad blockers

Wikia is not accessible if you've made further modifications. Remove the custom ad blocker rule(s) and the page will load as expected.