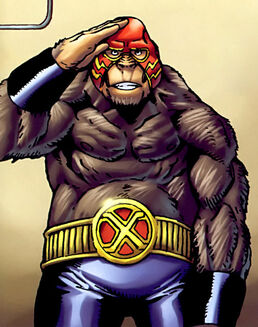 Roy Reyna
(by X-Beast)
Affiliations:
Solo: D6, Buddy: D10, Solo: D8
Distnctons:
Heroic Ambition,  Lucha Libre!,  Ozomatli's Champion
Powerset:
Mystical Monkey God Power!
Energy Blast D8 Superhuman Durability D10 Superhuman Strength D10 Superhuman Reflexes D10
SFX: Grapple: Add a D6 and step up effect die +1 when inflicting a complication on a target.
SFX: Area Attack: Target multiple opponents. For every additional target, add d6 to your pool and keep +1 effect die.
Limit: Gear. Shutdown Mystical Monkey God Power and gain 1 PP. Take an action vs. the doom pool to recover gear.
Specialities:
Acrobatic Master D8 Combat Master D8 Menace Master D8
Ad blocker interference detected!
Wikia is a free-to-use site that makes money from advertising. We have a modified experience for viewers using ad blockers

Wikia is not accessible if you've made further modifications. Remove the custom ad blocker rule(s) and the page will load as expected.